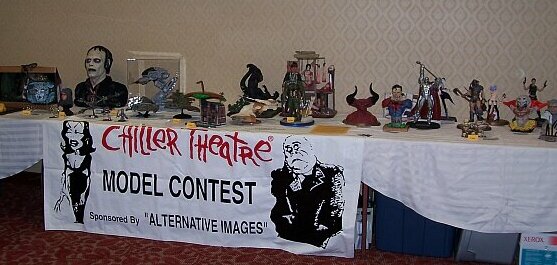 Chiller Theatre Model Kit & Art Contest
---
Held ONLY during the OCTOBER show!

---
If you have an entry for the Model Contest, DO NOT wait in line. Go directly to the ticket registration table WITH your entry and purchase your ticket/get your wristband for the show.

Contest takes place on Saturday. Entry fee info can be found on the RULES page.

Art Contest: No entry fee. Limit up to two large pieces (say, 19"x25" and larger) or up to three smaller pieces. Anything framed is preferable so we can hang them. If they're mounted on a stiff card stock we can rest them on the peg hooks.

Contest Schedule


Friday
6pm - 8:00pm Model/Art early registration Check in

Saturday
9am - 2:30pm Model/Art registration Check in
9:00am Display area open to general public
TBD Display area closed / Judging begins
(check prg guide for times)
TBD Award presentations (check prg guide for place & times)
- Winner photo session & models picked up by Contestants following Award ceremony

Certificates (& a Model Kit for 1st place) are awarded in the following categories:

Professional
Scratchbuilt
Youth
Hardware and Vehicles
Horror/Sci Fi/Fantasy/Anime/Superhero Figure
Horror/Sci Fi/Fantasy/Anime/Superhero Diorama
Judges' Best of Show
People's Best of Show
Art Contest
A cash prize is awarded to the winner of the The Grand Poobah Award.
The Model & Art Contest are Sponsored by:


&