ZACHERLEY
Continued . . . Page 4
The First Recording
Roland's popularity was noticed by some important people in the entertainment industry, including Bernie Lowe (one of the owners of the Cameo & Parkway record labels). Lowe came home from work one night and found his daughter glued to the TV set watching the antics of Roland. When Lowe asked his daughter about the character, she said he was all the rage among the local teens. Lowe watched as Zach recited crazy horror limericks, some of which fans sent in, and got the idea to record Roland.
The result was "Dinner with Drac", a medium tempo rock song which Zacherle half sung and half recited. On the record he was backed by Dave Appell and the Applejacks, the house band at Cameo Records. One of the memorable features of the record is wailing sax. Dick Clark claims to have been at this session. It is also rumored that Clark refused to play "Dinner with Drac" on American Bandstand, so Zacherle recut it using milder Iyrics. Incidentally, the record was originally issued with Igor on the flip side, but was quickly reissued with "Dinner with Drac, Part 1", the milder version, on the air play side. The record was a big hit and went up to number 6 on the Billboard chart, prompting Zacherle to make appearances on American Bandstand and a number of teen orientated shows. Zach's billing on the record label is interesting--it states: John Zacherle - "The Cool Ghoul" who plays Roland. Zacherle gives Dick Clark credit for calling him The Cool Ghoul. A sequel, "Eighty Two Tombstones", was cut but was not successful, most likely because Zacherle was in the process of moving to New York at the time it was released.

Zach Leaves WCAU
Speaking of the move to New York, it has never been 100% clear as to why Zacherle ended such a successful run on WCAU prematurely, but it appears that a great deal of unpleasantness on both sides regarding salary, ownership of the character, and other details may have precipitated the change. Zach had made some contacts in New York City as a result of the success of "Dinner with Drac" and was able to negotiate a deal for himself at the WABC affiliate, Channel 7, just at the time his one year contract with WCAU was ending. The Manhattan station had been airing the Shock Theatre package since 1957, around the same time that WCAU started to run them. WABC didn't have a live host, using instead a Frank Galop styled off-screen announcer.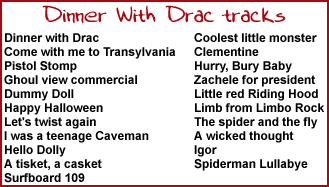 Around this time, Zacherle made a motion picture, a murder mystery called Key to Murder. Zach portrayed a detective and many of the Action in the Afternoon actors also had parts in the film. Zach remembers that the film either had a limited theatrical run or no theatrical run and then went directly to local Philadelphia television stations. It probably has never played on New York television. Interestingly enough, the film was included for review in early editions of Steven Schurer's book, Movies On Television.
Zacherley, With A "Y"
As the premiere of Zach's WABC show came closer, TV Guide and the local papers were utilized for a promotional campaign. Coming September 22, 1958, Master Ghoul Zacherley will host Shock Theater Monday and Friday". The letter "Y" was added to Zach's name to make pronunciation easier. Unlike the large set on WCAU, Zach had to content himself with a smaller crypt at WABC, but since it was nicely decorated in macabre fashion, it made an excellent place for Zach to carry on his ghoulish escapades. Photographs taken at the time show that care was taken to build a set that really looked like a combination laboratory/crypt with a nice variety of props including skull, beakers, shrunken heads, and candles.