ZACHERLEY
Continued . . . Page 5
The Big Debut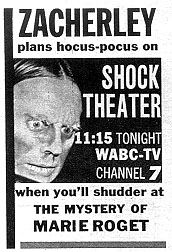 Zach would continue to host the classic Universal horror films, but would create new routines and break-ins to go along with them. As September 22 neared, the local papers teased viewers with ads that stated 8 days to Z day . . . 7 days to Z day . . . etc., etc. Zach made his New York debut on September 22, 1958, at 11:15 pm, hosting The Mystery of Edwin Drood. As the weeks passed he hosted many of Universal's second line productions,including The Mad Daughter of Market Street and The Mystery of Marie Roget. Many tuned in strictly to see Zach and laugh at the "break-ins". Some of Zach's bits from this time included "Zach's discussion of the nervous system", "Zach's attempt to cure Isabel of insomnia", and "Gasport's medical check-up."
At Channel 7, Zacherly had the luxury of a live band, the WABC orchestra, and would use the entire band or select members from time to time. For example, one show (November 28, 1958) featured "Transylvanian folk music" and on another occasion, Zach performed a new opera "Il Draculare".
Many of the evenings experiments centered around Gasport and Isabel's problems. By the way, "My Dear", became Isobel at WABC. One episode had Zach attempting to find a cure for Isabel's falling hair. Another had Zach trying to redecorate Isabel's resting place with fresh dirt. These shows were a lot of fun, punctuated by Zach's improvisation skills and marvelous sense of humor. There would Zach be holding a large metal "hypodermic needle" and attempting to inject some potion into a large "cauliflower brain."
Needless to say, these shows featured many inventive break-ins. One very funny example: "During The Raven, Bela Lugosi is on the phone with one of his colleagues in the medical profession and refuses to offer his services as a surgeon. Finally he asks, 'who's on the case?' We hear the muffled reply, 'Zacherley and Gasport'. Lugosi's answer, 'I'm satisfied. They can handle it as well as I can."'
Everybody Knows Your Name
During this time, Zacherly became a household word in the New York area. He made crossover appearances to the Dave Garraway Show, the Steve Allen Show, the Jack Paar Show, and Pat Boone Show, among others. A third 45 RPM record was released pairing "I was a Teenage Caveman" with "Dummy Doll", two more novelty shockers. Unfortunately, the record failed to chart.
Famous Monster
During this period of time, Zach also appeared in a pictorial in issue #4 of Famous Monsters of Filmland, which was released in the spring of 1959. Also, during March of 1959, WABC sent out a press release that announced that "Ghoul Zacherley will be given his own show of creep films to host Friday and Saturday night called Zacherley At Large." It was also announced that the name Shock Theatre would be retired.
Unfortunately, Zacherle's tenure at WABC was coming to an end. During the June 20, 1959, show, Zach appeared during the last commercial interruption without makeup and announced that this was his last show for the year and when he returned in the fall it would be on WOR - Channel 9. For the record, the last movie Zach hosted on Channel 7 was Weird Woman.
Zach On A Map
It was during this time that the New York Journal American ran an item that became one of the great Zacherley collectibles from the 1950's. This was a map of Transylvania complete with a photo of Zach. The map, which was illustrated with humorous drawings that reeked of Zacherley Shock Theatre style wit, was included in the newspaper's TV Guide sized television magazine. Thanks to Zach's plugging of the map several times on his Saturday program, dealers sold out of the Journal American quickly, since many people who didn't normally read the paper bought it for the map!
Although Zach's Channel 9 show didn't debut until October 30, he was far from dormant during this time. Beginning May, Zach embarked a series of personal appearances in large theaters, such as the Astoria (Long Island), the Fabian (Paterson), the Branford in Newark, the Jefferson in New York City, and the Stanley in Jersey City.
The author was fortunate enough to see Zacherley on July 14, 1959, at the Stanley Theater in Jersey City. Tickets were sold in advance and cost $.99 - "big bucks" for a kid in 1959. All those who bought tickets were given a free 8x10 photo of Zacherley. The photos, now rare collector's items, were really lithographs and were signed, "Greetings Whatever you are - Zacherle." Zach's live performance lasted about 45 minutes. To the sold out capacity crowd in the audience, it seemed like it flew by in 45 seconds. Zach brought Gasport and Janos and cavorted around the stage with them, but Isobel was conspicuous by her absence. Zach joked about the quality of the films he hosted and told the audience, "too bad - we'll be running them all over again next year - ha! ha! ha!" He lip synched a song and danced around the stage with Janos, kicking Gasport out of his way several times. He then said "Goodbye, whatever you are", gave a few wolf howls and left the stage. The audience loved it and screamed for more but had to content itself with a screening of the Hammer film The Revenge of Frankenstein. For most of the kids at the Stanley Theatre on the muggy day in 1959, it was one of the highlights of their young lives. It was amazing the effect that the slender character in the white makeup and frock coat had on audiences, and it's strange that little mention is made of the charisma and live performing skills that Zacherle possessed in those days.
It was during this time that Zach encountered a Vampira look-alike at a promotional event for a Spike Jones LP. The album was called Spike Jones in HiFi - A Spooktacular in Screaming Sound. During May of 1959, Warner Brothers records brought Loulie Jean Norman, who played Vampira on the LP to New York for a promotional tour. (Paul Frees played Frankenstein on the LP.) It was arranged for Zacherle to meet Norman at the airport resulting in a memorable photo opportunity.