---
We'd like to thank everyone who entered
a model kit or art work! Thank you for
participating and allowing us to show off your talent!

---
Running the contest were the 'Hole in the Wall' Gang:
Dave Wuethrich, Bernie Clark, Scotty Mills,
Alina Chu & Mark Atherton!


---
Sponsors providing the kit prizes:
Thank you!
---
The Judges this year were:
Terry Webb, Ed Bowkley & Scott Mills
A Special Thanks to
Art Contest Judge: Alan Robert
---
"GRAND POO-PAH Award"
(What Kevin Clement likes the best!)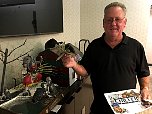 The winner of the cash
prize this year was
Arcane Summons
by Ken Hunt!
---
Judge's Best & People's Choice
Charlie Arrigo
Phantom of
the Opera
---
FIGURES
1st Place
Christian Frame
Pennywise
2nd Place
Charlie Ariggo
Creature
Blk Lagoon
3rd Place
Ken Hunt
Executioner
---
SCRATCHBUILT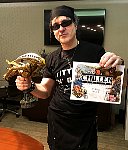 1st Place
John Broker
Swimming Alien
---
DIORAMA
1st Place
Ken Hunt
Arcane
Summons
2nd Place
Kirk Cullimore
London After
Midnight
3rd Place
Darren Capicotto
1428 Elm
Street
---
HARDWARE/VEHICLE
1st Place
Ron Morini
Cavorite Sphere
2nd Place
Russell Anderson
The Proteus
3rd Place
William Childress
Serpent Gundam
---
---
ART WORK

1st Place
Keith Shepard
Theatre of
Blood
2nd Place
Ben Hagenbush
Bram Stoker's
Dracula
3rd Place
Colleen Drum
Bride of
Frankenstein
---
---
(Many thanks to Dave Wuethrich for all the photos!)