ZACHERLEY
Continued . . . Page 7
During the summer of 1960, Zacherley's first long playing album was released. The title, Spook Along With Zacherley, was a takeoff on the Sing Along With Mitch TV Show. This LP, recorded with a large orchestra and released by Elektra Records, was produced by Stan Rhodes and Gerald Alters. One of the songs, "Zacherley for President," tied in with the book and poster set. Zach says that someone at the Ted Bates advertising agency came up with the Zacherley for President campaign.
It should be mentioned that Zach still turned up occasionally on American Bandstand particularly around Halloween time and often sang songs from his album and singles.
Keeping this in mind, the powers at Cameo Parkway Records contracted Zach toward the end of 1962 to cut a version of "Monster Mash" and an LP. The album included several recordings made famous by Chubby Checker, DeeDee Sharp, the Orlons, and Dovells. The original vocals were removed from the mixes and Zach sang new satirical Iyrics that were especially written for him and featured horror references. To give the record a "concept album" feel, the songs were connected by horror sound effects. This LP hit the billboard charts and outsold Bobby Pickett's version in many markets. The LP remained in print for years and was eventually replaced by a 10 song budget version on the Wyncote subsidiary label.
Cameo Parkway followed Monster Mash with another LP, Scary Tales, which contained eleven new songs including the Zacherley classic "Happy Halloween." The first song on the album, the title song, contained a "trick track" so that different Iyrics played each time you set the stylus in the groove.
Dick Clark Fill-In
During the early 1960's, Zacherley filled in for an ailing Dick Clark on one of his "Caravan of Stars" bus tours. Several of the Cameo Parkway stars appeared on this tour including Chubby Checker and Bobby Rydell.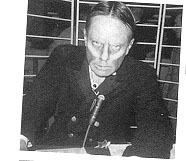 Despite the monster craze sweeping the nation at this time, little was heard from Zach until the summer of 1963 when WPIX, channel 11 in New York, announced that Zacherle would join their line-up hosting Hercules cartoons. WPIX gave Zach a nostalgic and elaborate crypt set which included a castle window and plenty of props. For Zach it was business as usual as he revived his old routines and brought along Gasport, Isobel, and the Amoebas for extra laughs.
During 1964, WPIX made a number of programming changes in an effort to improve ratings. Zacherley was made the host of Chiller Theatre, thereby allowing him to do what he does best - host films. Some of the movies lampooned included She Demons, Attack Of The 50 Foot Woman and Plan 9 From Outer Space.
Unfortunately, Zach's deal with WPIX ended during 1964.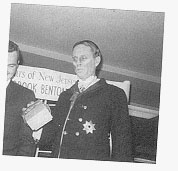 In 1965, Zach turned up with a new program, Zacherley's Disco Teen, which aired daily on the Newark, N.J., UHF station, Channel 47, WNJU-TV. Zach describes the show as "sort of a Transylvanian Bandstand." The show featured dancers like American Bandstand and local bands and performers. The big difference between Zach and Dick Clark was that the Cool Ghoul emceed the show in costume. He also performed his crazy routines and experiments, sometimes using the kids from the audience as straight men. The show was popular but frustrating because in the early days of UHF TV, reception could be poor. Many fans gave up watching the show because of subpar picture quality. The show ended in 1967.
Radio Debut
During the fall of 1967, Sunday morning listeners of progressive radio station WNEW-FM, were treated to Zacherley's New York radio debut. Word spread quickly and Zach was soon given his own daily program. During this period, Zach often donned his frock coat and makeup to host a Halloween party or horror film premiere. For example, Zach donned full makeup and costume during 1968 to host and emcee the New York premiere of the science fiction film, Green Slime.
During 1970, Zacherle moved to WPLJ-FM, the most popular of the progressive radio stations. During the fall of 1970, Zach hosted a Halloween radio show which featured horror rock and novelty songs from a variety of sources including Zach's own record album.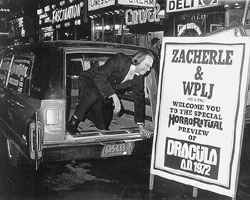 Zach stayed with FM until 1980, when he retired because of frustration over format restrictions. During the late 1970's Zach appeared in costume on the The Mike Douglas Show (1976), where he performed a funny skit with Douglas, and The Tom Snyder Show (1978), where the old amoeba bit proceeded to shock and repulse Snyder.
In 1980, Zach hosted the Halloween parade and costume contest at the Woodbridge Center Shopping Mall in New Jersey. The same night he guested on WNEW radio and gave a Halloween performance. Also, during the early 1980's, Zach turned up in a straight acting role on Captain Kangaroo, portraying a wizard in an Aladdin presentation. In 1981, Zach played a horror host in the film, Geek Maggot Bingo.