ZACHERLEY
Continued . . . Page 2
Zacherle was said to have developed a love for gardening and had even won an award for his flowers at a Philadelphia show. He was also branching out to other show business related jobs in Philadelphia's booming entertainment industry, including a stint as radio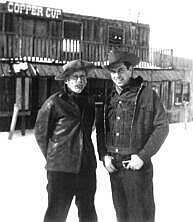 announcer.
Zach Lands His First Role
Gradually, Zacherle made his way to television where his first notable appearance was in a fateful role in a daily live serial-styled western, Action in the Afternoon. The show was aired live and had a typically low local television budget. The continuing story line featured a regular cast of characters, which included Zach in a number of bit parts. At one point, it was decided to hire an actor to portray the town undertaker, a onetime role that could be used to dispose of the recent victims of gunfights and hangings. Somehow, it was decided to award the part to Zacherle. The budget conscious costume department decided to dress the town's new undertake in a long black frock coat and this item of apparel would become one of Zacherle's most important visual props, one which remains with him to this day.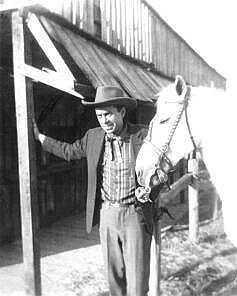 Zach described the show: "It was a Western and kind of crazy. Everything would go wrong. Horses would run away. Nobody knew how to ride a horse anyway. Everything was live in those days, so we'd stand in the set which was a parking lot outside the studio, hitch our horses up, walk in the door casually . . . then run like crazy across the lobby and into the studio for the interior shots."

Fate Intervenes
Zach may have continued in this fashion for years taking occasional small roles and bit parts, but fate intervened. Universal Pictures decided to releases their library of 1930's and 1940's horror films to television. A full page in Variety announced the film packages. It was called SHOCK and it encompassed such films as The Wolfman, Frankenstein, Dracula, The Mummy, and all of the sequels. A second package was called SON OF SHOCK and completed the collection with the Inner Sanctum films and all of the B movies that Universal-International created during the 1940's. Over 70 films, and stations all around the country lined up to make deals to play them in the fall of 1957. WCAU - Channel 10 in Philadelphia and WABC - Channel 7 in New York were two of the stations that signed to play these movies during the late night hours. Some stations decided to go al out and signed actors to portray creepy, characters to host the films. There were mad scientists, vampires, and various eccentrics.
Shock Theatre
Not long after the undertaker role, Zach received a phone call from Philadelphia TV station WCAU and was asked to host Shock Theatre. He adds, "Someone remembered me from the western. I never even tried out. I whipped out the old black coat I wore as the undertaker on the cowboy show."
Zach parted his hair in the middle and applied the famous ghoul-like makeup and the rest was history.