---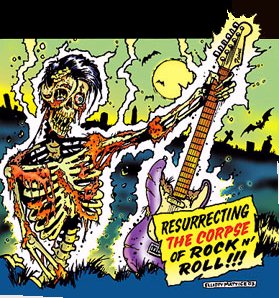 Little known Musical CHILLER facts...
At the first expo, Ramones guitarist Johnny Ramone and Metallica guitarist Kirk Hammett stopped by to check it all out and hang a while!

Since then many other musical guests and visitors have stopped by to hang for the weekend.

Some of these great friends and guests include...
Cherie Currie & Sandy West of The Runaways,
Ray Manzarek (The Doors), Mick Taylor (Rolling Stones), Dee Snider (Twisted Sister), Joey Ramone, C.J. Ramone, Dee Dee Ramone, Marky Ramone, The Misfits, Gwar, Richie Scarlet, Michael Bruce, Dennis Dunaway, Neal Smith (Alice Cooper Band) Joe Bouchard (Blue Oyster Cult), Bill Mumy, Reggie Bannister, and Johnny Legend!
Home

Congratulations! You found one of many easter eggs scattered
throughout the site! Pssstt... don't tell anyone! Our little secret!